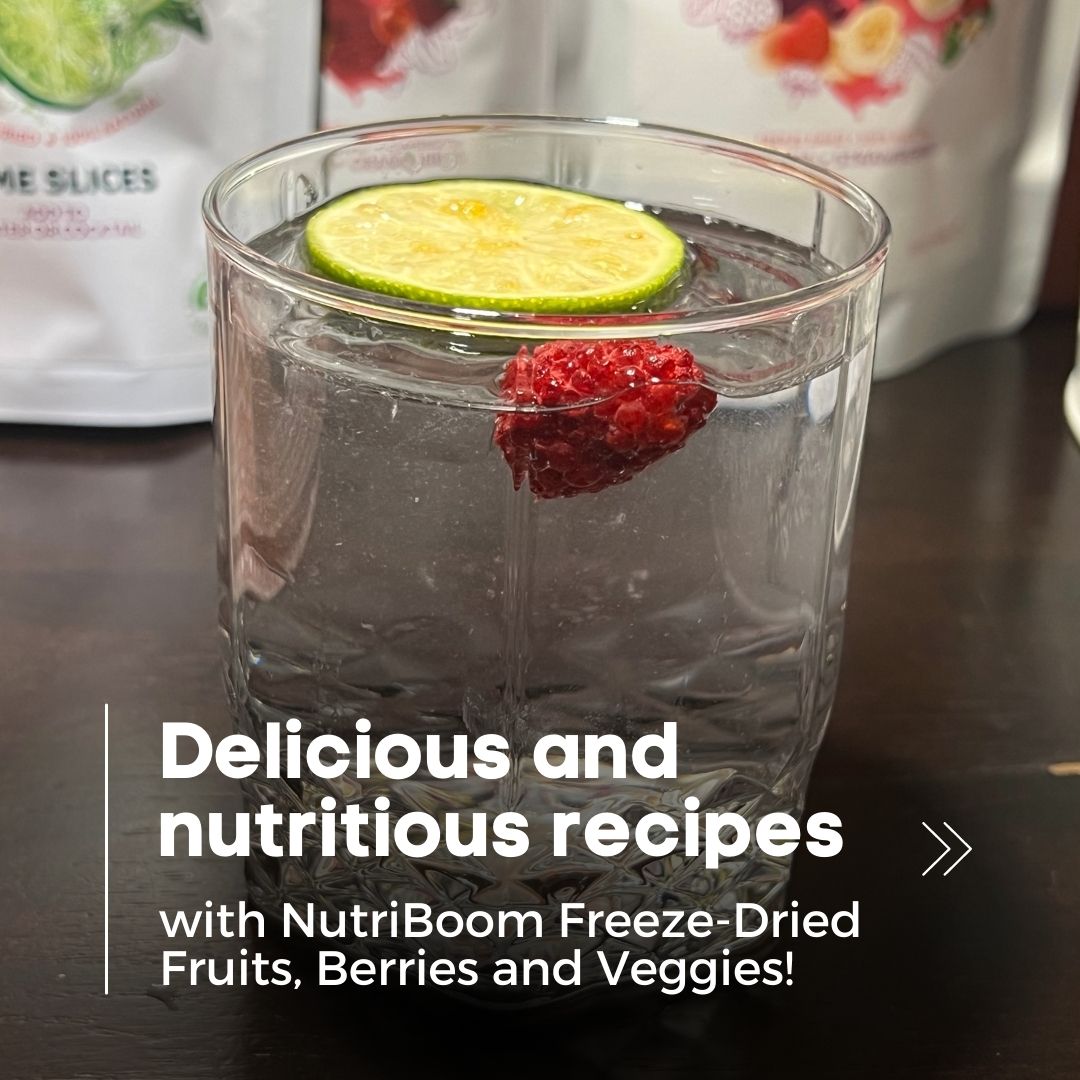 Are you looking for ways to infuse your meals with vibrant flavours and added nutrition? In this blog post, we're sharing three mouthwatering recipes that incorporate NutriBoom's high-quality freeze-dried berries, veggies, and fruits. These recipes are not only delicious but also packed with essential nutrients, making them perfect for those seeking a healthier and more flavourful culinary experience.
Berrylicious Breakfast Parfait
Start your day on a delicious note with our Berrylicious Breakfast Parfait. Layer NutriBoom's freeze-dried strawberries, raspberries, and blueberries with creamy Greek yogurt and crunchy granola. The burst of flavours from the freeze-dried berries will awaken your taste buds, while the combination of protein, fiber, and antioxidants will keep you fueled throughout the morning.

Veggie-Packed Quinoa Salad
Elevate your lunch or dinner with our Veggie-Packed Quinoa Salad. Combine cooked quinoa with a colourful medley of NutriBoom's freeze-dried veggies, such as bell peppers, tomatoes, and pickled onions. Toss them with a zesty dressing made from lemon juice, olive oil, and herbs. This vibrant and nutrient-rich salad is a perfect balance of flavours and textures, providing you with a wholesome and satisfying meal.
Refreshing Fruit Infused Water
Stay hydrated and refreshed with our Refreshing Fruit Infused Water. Simply drop NutriBoom's freeze-dried fruit slices, like lime, strawberries and raspberries, into a pitcher of cold water. Let it infuse for a few hours to release the natural flavours and subtle sweetness of the fruits. Sip on this revitalizing beverage throughout the day to quench your thirst and enjoy a burst of fruity goodness.
With NutriBoom's freeze-dried ingredients, you can effortlessly elevate your meals and snacks with vibrant flavours and added nutrition. Whether you're starting your day with a Berrylicious Breakfast Parfait, enjoying a Veggie-Packed Quinoa Salad for lunch, or staying hydrated with Refreshing Fruit Infused Water, these recipes will delight your taste buds and nourish your body.
Happy cooking and savouring!
Sources:
Mayo Clinic Staff. (2021). Water: How much should you drink every day? Mayo Clinic.
Harvard T.H. Chan School of Public Health. (n.d.). The Nutrition Source - Whole Grains.
University of Rochester Medical Center. (2021). Healthy Snack Ideas.
Comments (0)